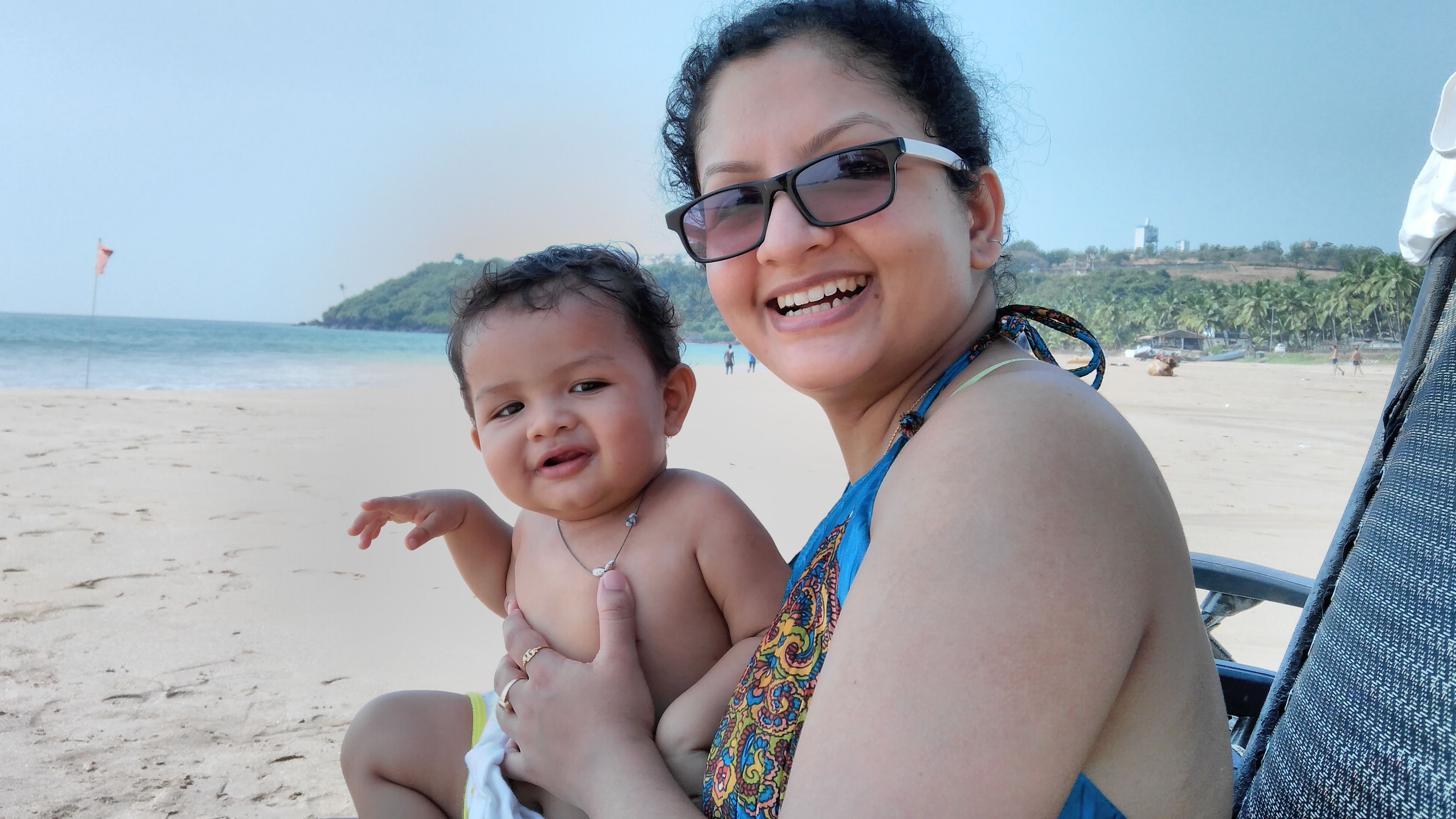 My husband and I love to travel on any given day. After traveling to different places in India and the US between Nov to Feb(4 months) including visits to our native places in Assam (including some solo trips ), it was time to take a rest.
And within a month I conceived. I guess traveling helped my mind and body to relax, as we're trying hard for the last year for a baby, followed by a miscarriage.
My pregnancy went smoothly and we had a lovely baby boy. Life became a roller-coaster ride for us. But the travel bug was crawling inside me and pinching me from time to time. Travel bug doesn't come and go, it resides permanently inside you.
I desperately needed a break from the daily routine. Oops did I say daily routine? The daily routine doesn't change whether you are home or on a vacation when you have a baby.
Our son was approaching his 1st birthday, and 10 days after that we had to leave for our native place in Assam. Before going home, we took a short 3 Days Trip to Goa with our 1-Year-Old.
One week before our trip, I introduced my son to formula milk (he didn't have outside milk before). So in public places, I don't have to cover him or look for a secluded place to breastfeed him.
I even made a checklist of items like his daily essentials and food items to carry for this 3 Days Trip to Goa with a 1-Year-Old. This helped me with what to pack and when to feed him what.
Day 1:
Breakfast: Bread dipped in milk/warm water or cerelac or oats or powered cornflakes
Mid-morning: Milk/ finger food
Lunch: Little Moppets Foods
Afternoon: Breastmilk/ Formula milk
Dinner: Dal rice/ Khichdi
Day 2:
Day 3:
Breakfast: Same as day 1and 2 or another alternative
Mid-morning: Milk
Lunch: Little Moppet Foods
Afternoon: Breastmilk/ Formula milk
Evening: Cakes, biscuits, fruits
Dinner: khichdi or dal rice or roti
You can also read: 5 Best organic baby food brands in India 2020
What to pack for Goa with a baby? Below is the list of items to pack for a short trip:
Diapers,
Extra set of clothes,
Toys and books
Formula milk powder
2-3 feeding bottles
Electric kettle
Cloth bag
Medicines
Toiletries
Baby Carrier/Stroller
Diaper Bag
Wipes
Snacks
Shoes/Slippers
Below is the list of items to carry when out for the whole day:
Baby Carrier/Stroller
Diaper Bag
Wipes
Sanitizer
Diapers
Extra set of clothes
2-3 toys
Food/ Snacks
Formula milk powder
Water
I tried to maintain his schedule, which includes his meal time and nap time.
One day of our journey the flight was scheduled to depart at 4.30 in the evening from Mumbai airport. Our son got up at his usual time in the morning, had breakfast, played for some time, took a bath, and went to sleep. While he was sleeping we had our lunch, washed the utensils, got ready and everything was done. In the meantime, he also got up, dressed him, breastfeed-ed him and we were ready to leave for the airport.
After checking in he had a banana. At this age, they need to eat something at a gap of 2-3 hours. We still had time for boarding. Before boarding the flight I prepared his formula milk which he had during takeoff. And he slept and got up just before we landed.
Things to do in Goa with kids
As goa is famous for its beaches it is worth spending a whole day by the sea. Bring in some toys for the kids to play in the sand, while you relax with your favourite drink.
Other than that there are things that can be enjoyed both by kids and adults:
1)Dolphin Show:
Go for a Dolphin tour at Baga beach or at Candolim Beach as both  Kids and adults are gonna love this trip. At Candolim beach, an hour-long tour on the boat to witness the stunning dolphins is one of the best activities to do in Goa.
2) Aguada and Chapora Fort:
Both the forts has a long and fascinating history attached to them and both offers beautiful views of the sea. With open spaces, they are ideal to visit with kids.
3) Basilica of Bom Jesus:
Basilica of Bom Jesus is a UNESCO World Heritage Site in Goa. The mummified body of St. Francis Xavier that remains encased in a silver casket is the key highlight of this church.
4) Mandovi River Cruise:
Enjoy the beautiful surrounding and scenic views of the sunset while cruising the river Mandovi. The cruise lasts for 1 hour and is accompanied by Music, Dance, Live Dj and cultural activities.
5) Water Sports:
For older kids (Above 10-12 years) and adults there are plenty of waters sports like paragliding, parasailing, water bike etc that one can enjoy. 
6) Flea Market:
Anjuna Flea Market on Wednesday and Saturday Night Market in Arpora are two markets that one must visit if you are in Goa. From jewellery to local handicrafts, clothes these places are shoppers' paradise. Don't forget to carry a baby carrier if you are taking babies or younger kids as walking around here can be tiring for them.
7) Carnival:
Preparations for the carnivalcelebrations begin early on in December and is usually celebrated during the months of either February or March before the onset of Lent. People of all age groups can enjoy this festival. It includes revellers wearing masks and costumes usually, dancing troupes, electrifying music which is generally performed live, great food and drinking.
Where to stay in Goa?
From budget traveller to luxury one Goa has very good options to choose from. But with kids, I would prefer a place that offers safety, hygiene, spacious and close proximity to the beach. Here are some options that you can check:
Hotels in Goa:
Use my code GO18249 to get 150 INR when you sign up with Goibibo.
How to reach Goa?
Dabolim airport is well connected to all the metro cities. Margao and Vasco-da-Gama are the two main stations.
Check your flights and trains here.
 The bus is another option if you are travelling from Mumbai or Bangalore.
We had a nice time together, though most of the time my concern was, whether he is enjoying it or not, is he hungry or sleepy?
What I understood from this trip at this age is that we need to maintain his meal and nap time, so that they don't become cranky and we all have a memorable vacation.
Also, Read Travel During Pregnancy