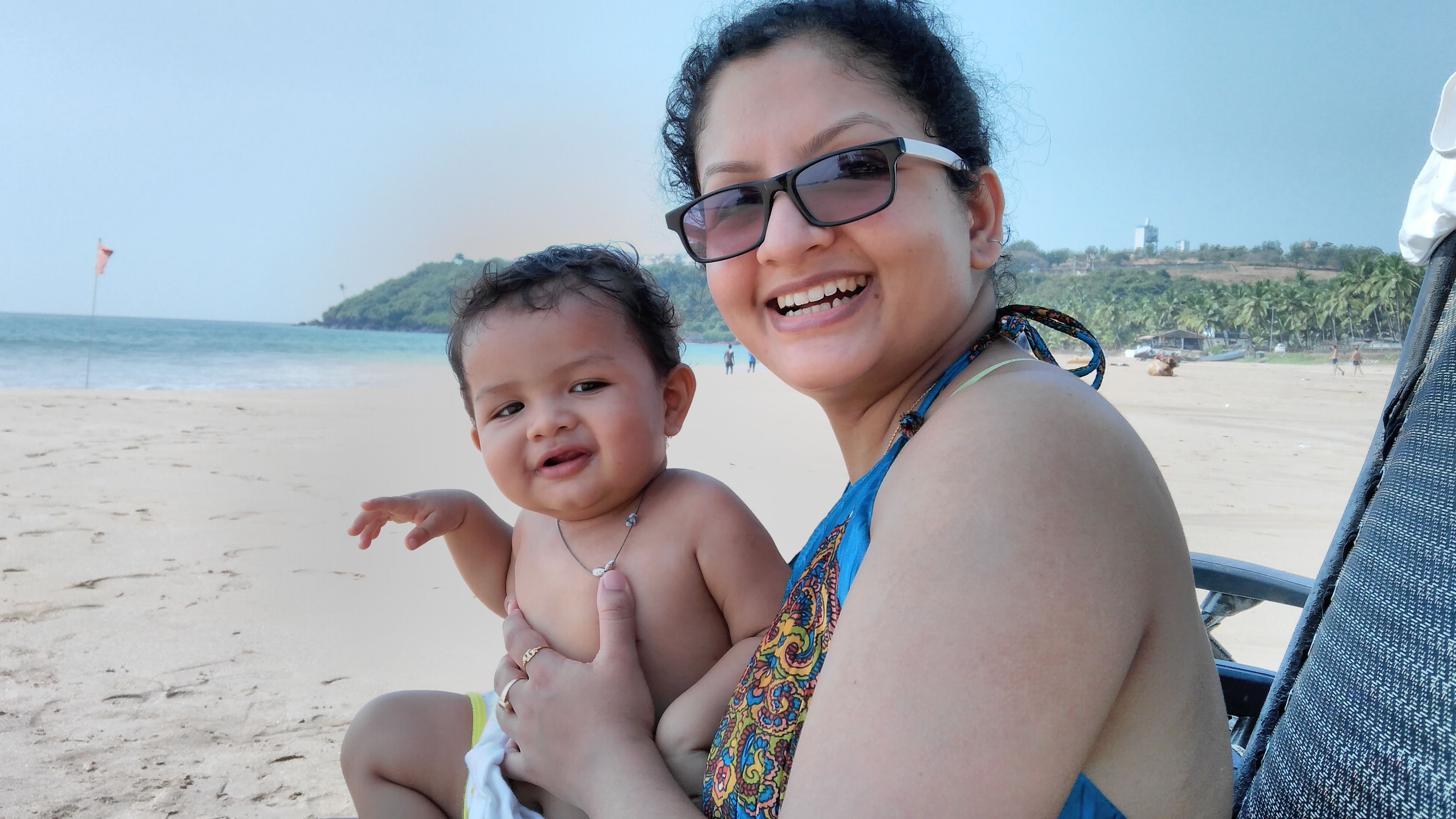 My husband and I love to travel on any given day. After traveling to different places in India and the US between Nov to Feb(4 months) including visits to our native places in Assam (including some solo trips ), it was time to take a rest.
And within a month I conceived. I guess traveling helped my mind and body to relax, as we're trying hard for the last year for a baby, followed by a miscarriage.
My pregnancy went smoothly and we had a lovely baby boy. Life became a roller-coaster ride for us. But the travel bug was crawling inside me and pinching me from time to time. Travel bug doesn't come and go, it resides permanently inside you.
I desperately needed a break from the daily routine. Oops did I say daily routine? The daily routine doesn't change whether you are home or on a vacation when you have a baby.
Our son was approaching his 1 st birthday, and 10 days after that we had to leave for our native place in Assam. Before going home, we took a short 3 Days Trip to Goa with our 1-Year-Old.
One week before our trip, I introduced my son to formula milk (he didn't have outside milk before). So in public places, I don't have to cover him or look for a secluded place to breastfeed him.
I even made a checklist of items like his daily essentials and food items to carry for this 3 Days Trip to Goa with a 1-Year-Old. This helped me with what to pack and when to feed him what.
Day 1:
Breakfast: Bread dipped in milk/warm water or cerelac or oats or powered cornflakes
Mid-morning: Milk
Lunch: Little Moppets Foods
Afternoon: Breastmilk/ Formula milk
Dinner: Dal rice/ Khichdi
Day 2:
Breakfast: Same as day 1 or fruits
Mid-morning: Milk
Lunch: Little Moppets Foods
Afternoon: Breastmilk/ Formula milk
Evening: Banana or any other fruits
Day 3:
Breakfast: Same as day 1and 2 or another alternative
Mid-morning: Milk
Lunch: Little Moppet Foods
Afternoon: Beastmilk/ Formula milk
Evening: Cakes, biscuits, fruits
Dinner: khichdi or dal rice or roti
You can also read: 5 Best organic baby food brands in India 2020
What to pack for goa with a baby? Below is the list of items to pack for a short trip:
Diapers,
Extra set of clothes,
Toys and books
Formula milk powder
2-3 feeding bottles
Electric kettle
Cloth bag
Below is the list of items to carry when out for the whole day:
Diapers,
Extra set of clothes,
2-3 toys,
Food,
Fruits,
Formula milk powder,
Water,
Hot water in a flask
I tried to maintain his schedule, which includes his meal time and nap time.
One day of our journey the flight was scheduled to depart at 4.30 in the evening from Mumbai airport. Our son got up at his usual time in the morning, had breakfast, played for some time, took a bath, and went to sleep. While he was sleeping we had our lunch, washed the utensils, got ready and everything was done. In the meantime, he also got up, dressed him, breastfeed-ed him and we were ready to leave for the airport.
After checking in he had a banana. At this age, they need to eat something at a gap of 2-3 hours. We still had time for boarding. Before boarding the flight I prepared his formula milk which he had during takeoff. And he slept and got up just before we landed.
We had a nice time together, though most of the time my concern was, whether he is enjoying it or not, is he hungry or sleepy?
What I understood from this trip at this age is that we need to maintain his meal and nap time, so that they don't become cranky and we all have a memorable vacation.
Also, Read Travel During Pregnancy