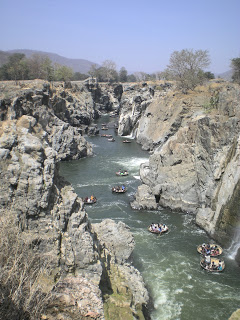 What happens when you decide to go on a trip with your best buddies? After I resigned from work and was done with my PGDBA exam, I decided to go to Banglore. I always loved Bangalore for its nice cool weather. My friends Aditi, Poulomi, Neelotpal who are from Banglore itself, and I decided to go for a day trip Hogenakkal Falls.
It was a sunny day in February. We started our journey at 7 in the morning from Bangalore. Our 1st stop was at a Udipi restaurant for the morning breakfast. After munching on some Idli Sambar we continued our journey again. We had hired an Indica Taxi. We all were very excited about this quickly planned trip. (Suddenly planned trip works rather than plans made in advance).
Hogennakal falls was 120 km from Bangalore and it will take us 3-4 hrs to reach. The road to Hogenakkal Falls is blessed with scenic beauty and really good roads. The best time to visit this place is during winters i.e from October to March, because of the pleasant weather.
We reached our destination at around 12.30 in the afternoon. Hogenakkal Falls is in the district of Dharmapuri in the state of Tamilnadu. It is also known as Niagara of India located at about 750 feet above sea level amidst the Melagiri hills. We got into one of the coracles. Coracles are local boats and are operated by the local people & it is the main source of income for these boat operators. The coracles are about 7ft 4 inches in diameter and can load 8 persons at a time. They are made of bamboo and all materials available. It takes about a day to build. The bottom of the boat is waterproof, made by the use of hides.
The boat trip will take us 2 hrs as told by our boat operator. We are also accompanied by a taxi driver. He acted as a guide for us & a translator as the boat operator could not speak Hindi & we don't t understand Tamil. Riding in the coracles was an awesome experience. We had seen these boats only in movies.
Hogenakkal Falls is set in thick green woods & is considered both a sacred bathing place & spa-like health resort. Many small falls offer a spectacular sight. After moving further, we saw many local food joints. One must taste fish, made in one of the many kitchens, but the order has to be placed in advance.
One spectacular sight was that of various vendors, selling water & snacks up & down the gorge rowing their coracles. After placing our fish order, it was time for swimming & bathing around there.
After we were done with our boat ride, and our trip was about to come to an end, we decided to get a local head massage. The irony was that the boat operator himself volunteered to give us a head massage.
It was an amazing experience & good memories to fall back on.
How to reach Hogenakkal Falls from Bangalore?
The 3 best ways to reach there are by Train, Bus, or by Road. But the fastest and best way to reach is by Road. One can hire a cab or take their own private vehicle. And if you plan to stay there check out few options here.
You may also read: Pondicherry Trip- My first trip with My Little One